We offer different secure payment, you can pay your orders either:
- CREDIT CART
Secure payment by the company Pay Plug, the online payment has never been easier. Secure solution for 3D Secure.
The 3D Secure protocol is expressed by an additional step in the payment: the authentication of the card holder.
Authentication takes place after attachment of bank data. The user is redirected to the page of his bank to get independent information of the card and clean him. The type of information to be entered is a specific bank. In most cases, a SMS with a unique code is sent to the cardholder. It must learn this code on the secure page of the bank to definitively validate the payment.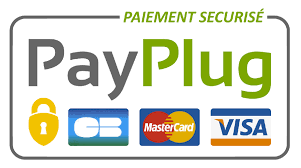 -

BANK TRANSFER
Make your transfer with our bank details below. Think of specify the number of your order in the information your transfer.
Your order will be shipped on receipt your transfer.

-

PAYPAL et CB
PayPal is a service that allows you to pay online, send and receive money without sharing your financial information. It's very secure.
As banking institution within the European Union, PayPal offers over 10 years of experience in secure online payments. PayPal crypt and secures your bank details and never communicate them to the recipient of your payments.
It's quick and easy.
No need to enter your 16-digit credit card every time you make a purchase online. Just use your PayPal password: email and password. Your transactions are instantaneous.
Pay online with PayPal does not cost you more than your credit card. If you make purchases in euros in the euro zone of the European Union,
it's FREE.