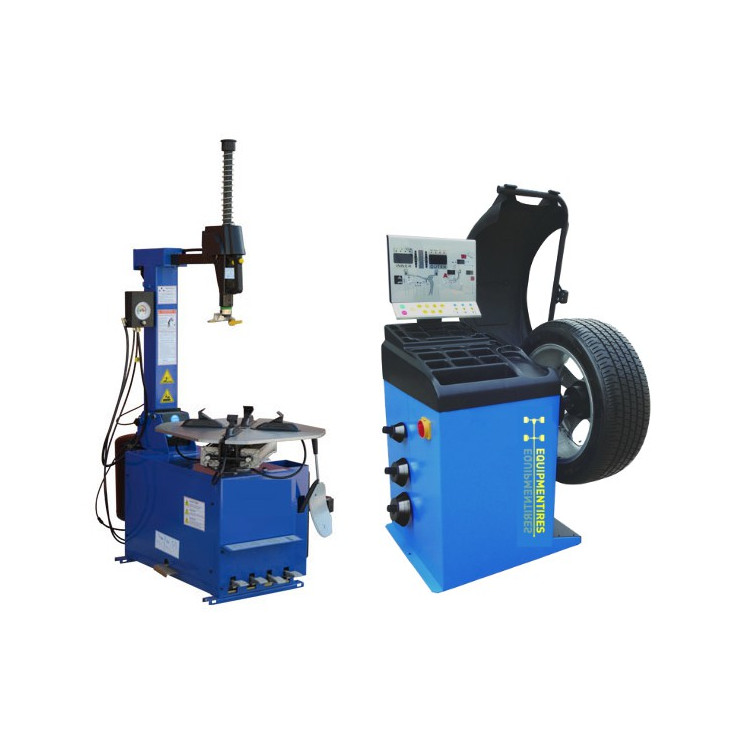 
SILVER TOURISM PACK
PASSENGER CAR T 624 ITR
Max. wheel diameter

: 930mm

Max. wheel width

: 3 à 12 pouces
Clamping jaws (inside)

: 12 à 24 pouces
Clamping jaws (outside)

: 10 à 20 pouces
*

 Unmounts semiautomatic tires with oscillating arm on the back of the machine, pneumatic locking arm.

*

 The mounting head is in special steel that is unbreakable and not foldable.
* The clamping jaws are made of special materials, to be able to support a long-term use.
*

 Pedalboards adopt an anti skid structure to properly maintain the pedals.
* Air booster function for the bonding of the tire bead on the rim for easy inflation of tires overwritten.
*

 There is an upper arm, which allows to support and facilitate the descent of the bead to the mounting, and there is a lower arm for assisting and facilitating the disassembly of tires and to relieve the operator.
* Motor power: 220V/50HZ/1PHZ.
WHEEL BALANCER W92
Max. wheel diameter

: 1 100mm

Wheel width

: 1,5 à 20 pouces
Rim diameter

: 1 à 28 pouces
Rotation speed

: 140 tours/minute
Balance precision

 :
+
/- 1g
Balancing period

: 7 s
Max. wheel weight

: 75 kg
*Italian software, easy, precision, widely, energy saving, environment protection.*5 types of ALU modes and 2 types of smart modes,tyre OPT mode and lead hidden mode.*LED display with mark buttons, makes it possible to operate intuitively.*To handle the rim in the range of 1 inch to 28 inch. Without any requirement to the min weight of the tire. The length of the shaft is 300mm, can use for special tires.*Standard 40mm threaded shaft, which can work with international standardized balancer accessories. Main shaft flange and threaded shaft threads which have been processed through supersonic quenching treatment. It is strong and endurable.*Machine calibration is easy to operate, which can restore machine's precision quickly.*Optional motorcycle balancing adapter kit is available. With motorcycle balancing mode.*With standard USB port. It is convenient to Upgrade the newer software.
12 MONTHS WARRANTY ON PARTS.
Security guarantees
100% secure CB payment, PayPal accepted
Delivery policy
Delivery TNT
Data sheet
Customs code

8479899790
TIRE CHANGER HC8511
Maximum wheel diameter:
1150 mm
Maximum permissible rim width:
14 inches
Clamping jaws (inside):
12 to 25 inches
Clamping jaws (outside):
10 to 22 inches
Clamping force:
2,500 kg
Operating pressure:
8 ~ 10bar
Noise level * Motor:
220V/50HZ/1PHZ
♦ Tire changer with pneumatically tilting column from front to back.
♦ Simultaneous pneumatic locking of horizontal and vertical arms with automatic positioning of the head in the optimal working position.
♦ Head with interchangeable plastic parts for rim protection.
♦ Pneumatic swing arm support column providing high torsional rigidity in all operating positions.
♦ Clockwise and counterclockwise rotation of the turntable through the electric motor.
♦ Front pull-out pedal.
♦ Protective kit for take-off shoe, disassembly head, clamping jaw and lever comes standard.
♦ Tubeless quick tire inflation system with pedal control and bead positioning in the turntable slides.
♦ Pressure reading unit with pressure release button.
♦ Complete with lubrication filter and pressure regulator and limiter.
HW 9700 BALANCER
Maximum wheel weight:
100 kgRim diameter
:
10"~ 30 "
Rim width:
1.5"~ 20 "
Rotational speed:
220 rpmBalance
accuracy:
±
1gMeasuring
time
:
8
secNoise
level
Shaft diameter of thread:
45 mm
* Motor: 220V / 50HZ / 1PHZ.
♦ Wheel balancer for passenger cars, 4X4, vans and motorcycles.
♦ Microprocessor controlled electronic wheel balancer for balancing wheels of cars, motorcycles and light industrial vehicles.
♦ Clearly visible built-in LED touch screen.
♦ Automatic distance and diameter data entry makes each balance fast and accurate.
♦ Automatic wheel braking after measurement.
♦ Wheel locking with quickfit nut.
♦ Self-calibration and self-diagnosis.
♦ Wheel dimensions in inches or millimeters.
♦ Unbalance indication in grams or ounces.
♦ Alu programs and motorcycle programs.
12 MONTHS WARRANTY ON PARTS.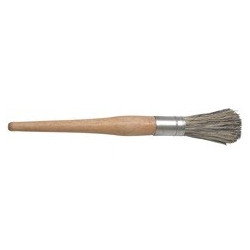 The delivery is offered from 150€ HT of purchase, below this sum, a participation of 12.50€ HT will be charged to you for France ,9,50€ HT for Germany, Belgium, Denmark, Luxembourg and for the Netherlands, 20€HT for Spain, Italy and Portugal.
The delivery is offered from 250€HT of purchase, for Austria, Hungary, Ireland, Poland, the Czech Republic, Slovakia, Slovenia and Sweden below this amount, a participation of 20€HT will be charged.
The delivery is offered from 500€HT of purchase, for Switzerland, Litchtenstein below this amount, a participation of 50€ HT will be charged to you, because of a supplement except CE and supply of a pro forma for the customs.
16 other products in the same category: